Thanksgiving Outreach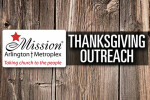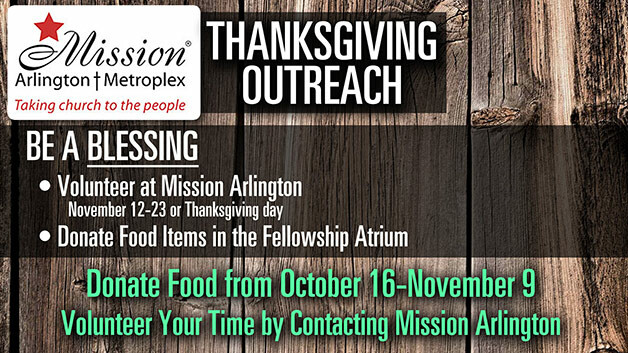 This year, for our annual Thanksgiving Outreach, we are partnering together with Mission Arlington.
From October 16-November 9, you can donate food items in the fellowship atrium before or after any service. You can also volunteer to serve at Mission Arlington (November 12-23 or Thanksgiving day).
We are BLESSED to be a BLESSING, so we want to encourage you to BOTH donate food and to volunteer at Mission Arlington.
The following Thanksgiving food is needed:
Boxed Mashed Potatoes
Canned Sweet Potatoes
Canned Hams
Canned Tuna
Canned Vegetables
Beans & Rice
Canned pie filling
Tuna
Canned fruit
Stuffing mix
Cranberry sauce
Macaroni & cheese
Peanut Butter
Vegetables
Hams
To volunteer your time at Mission Arlington, please contact them directly.