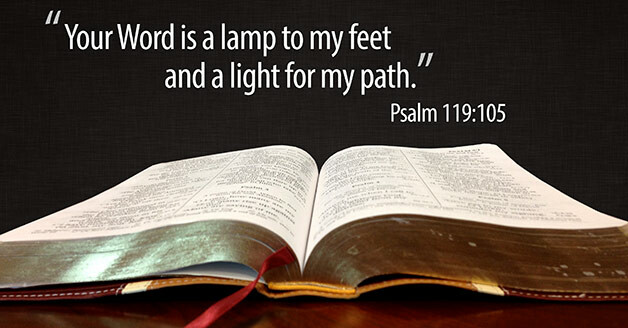 In Joshua 1:8, God spoke this critical message to Joshua:
Do not let this Book of the Law depart from your mouth; meditate on it day and night, so that you may be careful to do everything written in it. Then you will be prosperous and successful.
At that point in time, Joshua faced one of the most challenging times in his life. Moses, the great leader of God's people, had just passed away, and Joshua was about to lead the children of Israel into the promised land. God gave Joshua a formula for success in his endeavors to live for God and to also lead God's people.
It is incredibly important that we study the Scriptures on a daily basis. Here is the church's Bible reading plan. We want to encourage you to follow it.
February 1
February 2
February 3
February 4
February 5
February 6
February 7
February 8
February 9
February 10
February 11
February 12
February 13
February 14
February 15
February 16
February 17
February 18
February 19
February 20
February 21
February 22
February 23
February 24
February 25
February 26
February 27
February 28

Proverbs 1
Proverbs 2
Proverbs 3
Proverbs 4
Proverbs 5
Proverbs 6
Proverbs 7
Proverbs 8
Proverbs 9
Proverbs 10
Proverbs 11
Proverbs 12
Proverbs 13
Proverbs 14
Proverbs 15
Proverbs 16
Proverbs 17
Proverbs 18
Proverbs 19
Proverbs 20
Proverbs 21
Proverbs 22
Proverbs 23
Proverbs 24
Proverbs 25
Proverbs 26, 27
Proverbs 28, 29
Proverbs 30, 31

Romans 4-7
Romans 8-11
Romans 12-15
Romans 16; I Corinthians 1-3
I Corinthians 4-7
I Corinthians 8-11
I Corinthians 12-15
I Corinthians 16; II Corinthians 1, 2
II Corinthians 3-6
II Corinthians 7-10
II Corinthians 11-13; Galatians 1
Galatians 2-5
Galatians 6; Ephesians 1-3
Ephesians 4-6; Philippians 1
Philippians 2-4; Colossians 1
Colossians 2-4; I Thessalonians 1
I Thessalonians 2-5
II Thessalonians 1-3
I Timothy 1-4
I Timothy 5, 6; II Timothy 1, 2
II Timothy 3, 4; Titus 1-3
Philemon 1; Hebrews 1, 2
Hebrews 3-6
Hebrews 7-10
Hebrews 11-13; James 1
James 2-4
James 5; I Peter 1, 2
I Peter 3-5