Be a Blessing to People Impacted by Hurricane Harvey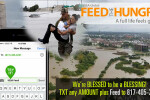 We're blessed to be a blessing! For many years we have partnered together with Feed the Hungry. Feed the Hungry is sending food, water, and emergency supplies to areas impacted by Hurricane Harvey. The giving category is FEED. Proverbs 3:27 tells us, "Whenever you are able, do good to people who need help." To be a blessing, TXT any amount plus FEED to 817-405-3231. You can also click here to give online. Use the category "Feed the Hungry."
Church members have also gone down to Houston and other areas to help and assist. For more information and updated information, please follow our Facebook page.