An Opportunity to Bless Pastor Joshua and Elim Church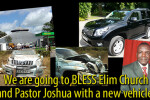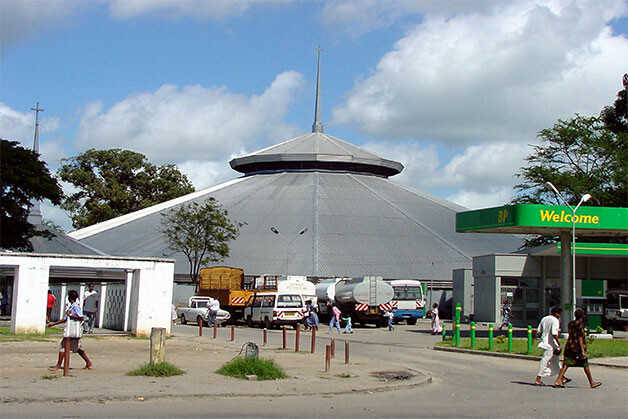 Church Family,
Sunday, we received a special offering for Pastor Joshua Alkali and Elim Church in Mombasa, Kenya. Recently, Pastor Joshua let us know about the need for a new vehicle to replace his vehicle, which was involved in an accident a few months ago. When I first saw the photos, I thought maybe it had been an accident with an elephant! I have been to Mombasa many times and the traffic there is literally crazy! Every time I rode to and from the church, I saw firsthand that Psalm 91 is true concerning our lives. Due to the rough roads and terrain, vehicles take a beating in this part of the world. Many years ago, the church blessed Missionary Bud Sickler with a car and now we will be blessing Pastor Joshua. This car will literally be driven hundreds of thousands of miles and it's important that Pastor Joshua have a vehicle that is safe, reliable, and can easily be worked on. This vehicle will be driven to and from the church daily, plus it will be used for pastoral ministry, hospital visitation, plus as a tool for Pastor Joshua to drive and check on many of the church plants we have helped them start. I promise you that Elim Church will make good use of this vehicle! Over the years, Elim church has always taken good care of the cars we have blessed them with and I have seen that first hand. It is a wonderful example of their stewardship, faithfulness, and gratitude. Some in America have so much, yet they are not grateful for what they do have.
Pastor Joshua has saved up half the money for the vehicle they are purchasing, and we are going to cover the other half. Since there is no manufacturing in Kenya and they drive on the left-hand side of the road, vehicles have to be imported, which makes them much more expensive than in the United States.
This is an opportunity for YOU to be a BLESSING!
Pray and ask God what to give; then give what God puts on your heart. You can use the TXT giving (category: car) or give online and select the category "Car – Pastor Joshua." This is an opportunity to sow a faith-seed into good ground. And, if you have been believing God for a newer car or new car, this is the perfect opportunity for you to sow a seed a faith, believing God that you will receive the desire of your heart.
As Paul wrote in 2 Corinthians 9:12-13, "This service that you perform is not only supplying the needs of God's people but is also overflowing in many expressions of thanks to God. Because of the service by which you have proved yourselves, men will praise God for the obedience that accompanies your confession of the gospel of Christ, and for your generosity in sharing with them and with everyone else."
Pastor Joshua and Elim church give THANKS for your GENEROSITY, and they pray daily for our prosperity and the prosperity of Faith Christian Center.
TXT: Text the amount plus the word "car" to 817-405-3231 or
Give online: http://giving.faithchristiancenter.com