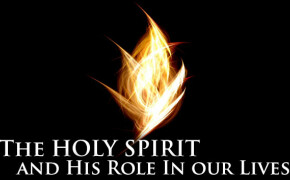 What does the Bible say about the Holy Spirit? Who is He and what is His role in our lives as believers?
The baptism of the Holy Spirit is the right, privilege, and benefit of every believer. (Joel 2:28; Acts 2:39)
The baptism of the Holy Spirit is a gift from God that belongs to every believer. (Acts 2:38)
The Holy Spirit is our helper, comforter and counselor. (John 14:26)
He leads us into all truth. (John 16:13)
He teaches us and reminds us of God's Word, of everything Jesus taught in the Gospels. (John 14:26)
He convicts us of sin. (John 16:8)
He is the still, small voice that warns and leads us. (1 Kings 19)
He helps us in our weaknesses. (Rom. 8:26)
He helps us pray when we don't know how to pray. (Rom. 8:26-27)
He fills us with His presence. (Acts 4:31; 7:55; 9:17; 10:44-45; 11:15, 24; 13:9, 52)
He gives us utterance. (Acts 2:4; 10:44-46; 19:6)
He empowers us. (Lk. 24:49; Acts 1:8)
He fills us with the fire of God. (Matt. 3:11; Lk 3:16; Acts 2; 2 Tim. 1:6)
He purifies us.
He creates passion in our heart for God and the things of God.
And He sanctifies us.
He bears fruit in our lives. (Gal. 5:22-23)
He empowers us with His gifts and power gifts for ministry. (1 Cor. 12 and 14)
He fills us with rivers of living water. (John 7:38)
He gives us the words to speak and say in ministry. (Lk 12:12)
He enables us to speak boldly. (Acts 4:31)