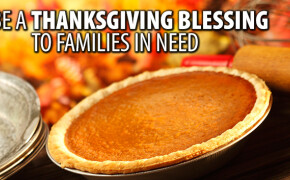 This Thanksgiving be a BLESSING to families in need!
We're going to be a blessing to families in need for Thanksgiving. We need everyone to donate food items for meals we will be giving away. More information about the items we need is available at Guest Services or via the list below.
At Guest Services, you can also reserve a Thanksgiving meal for families you know that will need a Thanksgiving meal. You could know them from work, your neighborhood, etc. Some people have lost jobs or have had a setback and unless someone blesses them with a meal they won't be able to have Thanksgiving. We want to bless families like that with a meal. Reserve meals for families you know in need at Guest Services or by calling the church office at 817-561-3400.
Reserved meals will be available for pick up beginning Wednesday, November 18.
This is our opportunity for you and your family to be a blessing to families in need this Thanksgiving.
--
$20 Grocery Store Gift Cards
Box Stuffing Mix
Box Macaroni & Cheese
Box Instant Potatoes
Canned Green Beans
Canned Corn
Canned Carrots
Canned Yams
Canned Fruit
Canned Cranberry
Sauce Canned Pumpkin Filling
Canned Chicken
Broth Canned Gravy
No glass jars please!