GoodNews Fest Parking Lot Outreach
Churchwide Events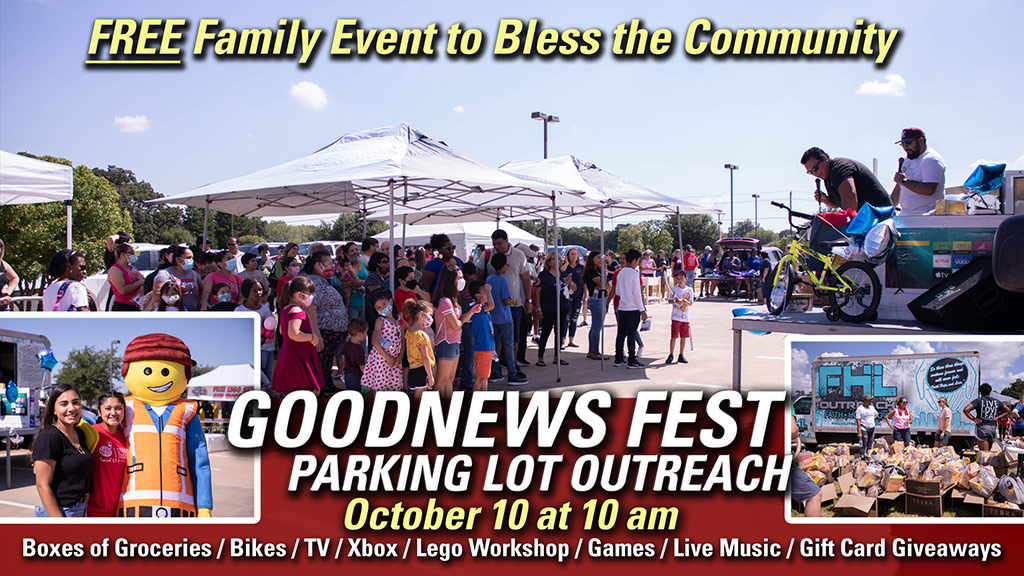 Don't miss our October outreach on Saturday, October 10 from 10 am - 12 noon. Join us for an outdoor GoodNews Fest in the church parking lot, along with FHL Outreach, Street Disciples, Building Blocks for Kids, and Fishers of Men. This is a FREE event to help the community!
To volunteer and help, sign up at Guest Services.
Be a blessing by donating the following items in the fellowship atrium:
• grocery store and restaurant gift cards
• items for the prize giveaways
• non-perishable food items and canned goods (pasta, rice, beans, cereal, oatmeal, granola bars etc.)
Help us by SHARING the event and INVITING others!
* No Registration Fees
* 120 Boxes of FREE Groceries!
* Drawings For $1,000 Worth Of Prizes Including:
Gift Cards, Bikes, XBOX, & More!
* Family Friendly Games, Inflatables & Music!
* FREE LEGO Workshop For Kids!
* Message Of GOOD NEWS & Hope To Bless The Community!
We're BLESSED to be a BLESSING!