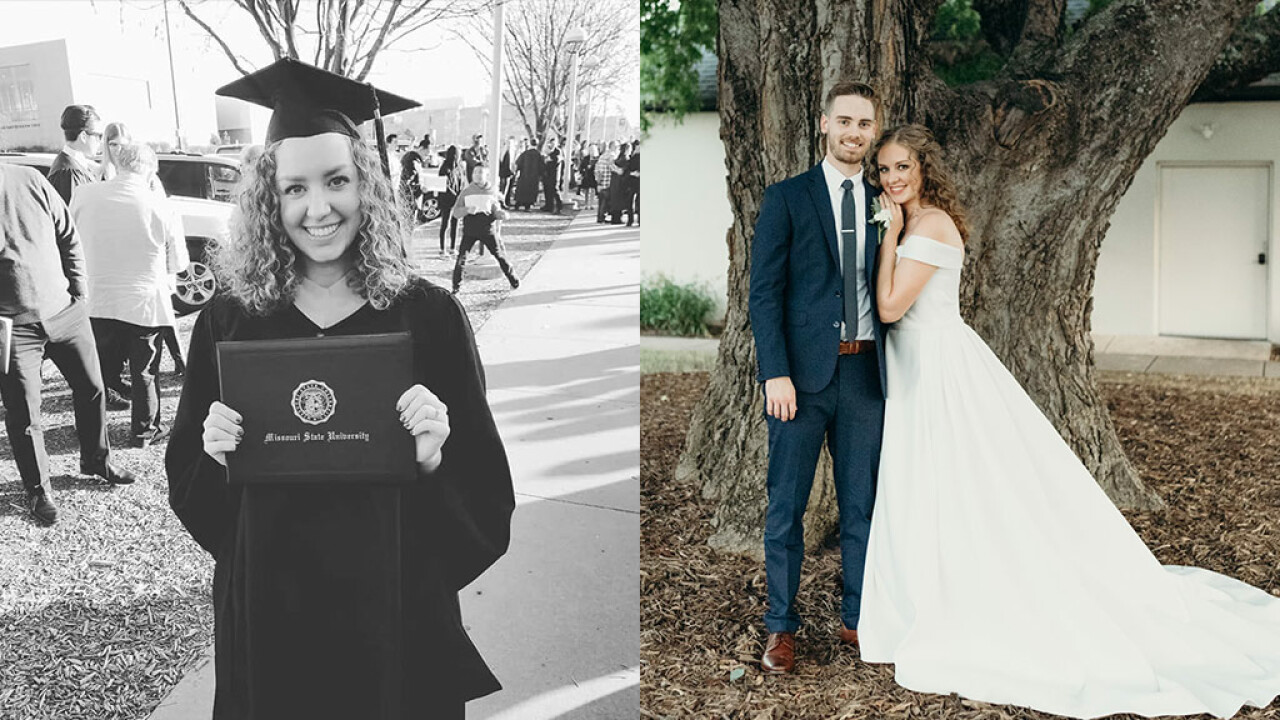 When I graduated from St. Paul's in 2013, I did not know what to expect from college other than I would have to work hard, like I did in high school. I was never the smartest kid in the classroom, and my class was packed with 4.0 GPAs, which did not come easy; we all worked hard! St. Paul's is a place where you get the opportunity to learn from amazing teachers (who would not be there if they were not called to be there) and learn about God in a safe, protected environment. Every time I think about SPPA, I am filled with gratitude. I remember the times that teachers poured into us, made us laugh, and made us reflect. We may not have liked reading, writing papers, taking tests, or doing homework, but I am glad they made us do those things because it made me a more disciplined person. I remember the life-long friends I gained, and I remember the teachers and coaches who became mentors and helped me get to where I am today.
After graduating from St. Paul's, I moved to Springfield, Missouri where I attended Evangel University and played collegiate volleyball. I was a Biology major, and after my first year, I became a lab assistant for basically any and every lab they could put me in. I loved every minute of it! I worked every semester after that, along with taking anywhere from 15-19 credits per semester—and I was still a college athlete. In my third year, I decided to tack on a second major known as Applied Science and Sustainability, and I helped the Science and Technology department create a new minor known as Applied Science and Agronomy, for which I was the first to receive.
Not only did SPPA prepare me for collegiate academia, but it also prepared me spiritually.
I was not sure how I would compare to others in college since I came from a private school, but I can honestly say that St. Paul's prepared me well. Just the fact that I actually did my homework put me head and shoulders above everyone else. My classes were not easy, but that does not mean I was not well-prepared. My grammar and writing skills were above the vast majority of my peers, and I excelled in math and science. Not only did SPPA prepare me for collegiate academia, but it also prepared me spiritually. There were many difficult things that took place in my life while I was in college and going to SPPA while attending Faith Christian Center helped me form a strong foundation on God's Word from which I was able to grow and stand firm in my faith. When you attend a Christian college, that does not mean that everyone is a Christian, unfortunately. I know many people that became confused in their faith or lost their faith in college because of a lack of a firm foundation in God. However, I also know a few people who I had the privilege of leading to Christ while I was at a Christian university. I thank my parents, but also SPPA and FCC for helping me build that foundation.
After graduating from Evangel University in four years, I spent the summer doing local missions work in Missouri along with some international missions work. I was also given the opportunity to give back to SPPA by stepping in as a substitute teacher for my semester off before moving back to Missouri where I attended Missouri State University for a Master's degree in Plant Science with a focus on genetics and plant pathology. I fell in love with research, graduated in two years, and never had to pay a penny of tuition because I was blessed with a graduate assistantship. Praise God! Faith and prayer work!
Shortly after graduating, I received three job offers in the same week in Kansas City, Kansas. I took a scientific researcher position in a lab researching neurotrauma, and I have already learned so much and exceeded expectations!
All in all, St. Paul's taught me that if you set your mind to something you want to achieve, and work hard at it, you can do anything. You do not have to pay attention to how everyone else is doing and compare yourself because everyone's path is different. I am proud of where I came from, and I am incredibly thankful for the privilege of growing up at SPPA.