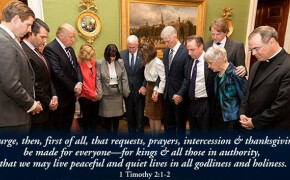 Here's how you can pray for President Trump.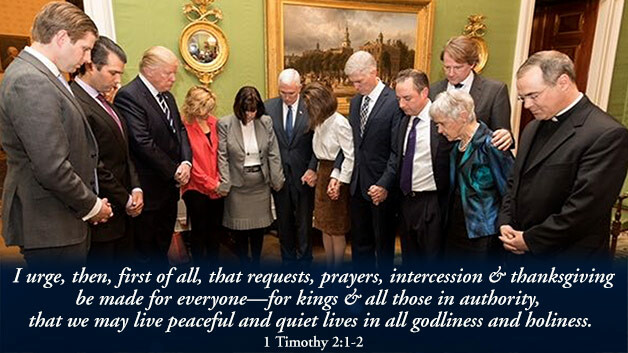 In 1 Timothy 2, the Apostle Paul writes:
1 I urge, then, first of all, that requests, prayers, intercession and thanksgiving be made for everyone— 2 for kings and all those in authority, that we may live peaceful and quiet lives in all godliness and holiness. 3 This is good, and pleases God our Savior, 4 who wants all men to be saved and to come to a knowledge of the truth.
As Christians, we are to pray for those who are in authority over us. And one of the best ways you can pray for those in authority and for any loved one is to pray Paul's Ephesian prayers over their life.
We want to encourage you to pray Paul's Ephesian prayers for the President. You can also use these prayers to pray for any friend or loved one that God has put on your heart.
Ephesians 1:3, 17-23 personalized:
Praise be to the God and Father of my Lord Jesus Christ, who has blessed Donald Trump in the heavenly realms with every spiritual blessing in Christ Jesus. I keep asking that the God of my Lord Jesus Christ, the glorious Father, may give Donald Trump the Spirit of wisdom and revelation, so that Donald Trump may know Him better. I pray also that the eyes of Donald Trump's heart may be enlightened in order that Donald Trump may know the hope to which He has called Donald Trump, the riches of His glorious inheritance in the saints, and His incomparably great power for Donald Trump because Donald Trump believes. That power is like the working of His mighty strength, which He exerted in Christ Jesus when He raised Him from the dead and seated Him at His right hand in the heavenly realms, far above all rule and authority, power and dominion, and every title that can be given, not only in the present age but also in the one to come. And God placed all things under His feet and appointed Him to be head over everything for the church, which is His body—which includes Donald Trump—the fullness of Him who fills everything in every way.
Ephesians 2:6-10 personalized:
And God raised Donald Trump up with Christ and seated Donald Trump with Him—with the Father—in the heavenly realms in Christ Jesus, in order that in the coming ages He might show the incomparable riches of His grace, expressed in His kindness to Donald Trump in Christ Jesus. For it is by grace that Donald Trump has been saved, through faith—and this not of Donald Trump, it is the gift of God—not by works, so that Donald Trump cannot boast. For Donald Trump is God's workmanship, created in Christ Jesus to do good works, which God has prepared in advance for Donald Trump to do.
Ephesians 3:14-21 personalized:
For this reason I kneel before You, Father, from whom Your whole family in heaven and on earth derives its name. I pray that out of Your glorious riches that You may strengthen Donald Trump with power through Your Spirit in Donald Trump's inner being, so that Christ may dwell in Donald Trump's heart through faith. And I pray that Donald Trump may be rooted and established in love, that Donald Trump may have power, together with all the saints, to grasp how wide and long and high and deep is the love of Christ, and to know this love that surpasses knowledge that Donald Trump may be filled to the measure of all the fullness of God. Now to You who are able to do immeasurably more than all Donald Trump can ask or imagine, according to Your power that is at work within Donald Trump, to You be glory in the church and in Christ Jesus throughout all generations, for ever and ever! Amen.